America's Great Diva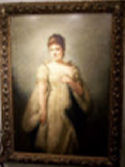 Among the rolling hills of central Maine, a typical farmhouse nestles in the shade of a giant maple tree. It looks like a thousand other such cottages along the road, modest and trim, without benefit of a porch or portico: a small foursquare building with a couple of rooms under it's single gable, and an ell reaching out behind.
Across the threshold the atmosphere is preserved; low ceilings, splatter walls; but through the right hand door a sudden contrast meets the eye. Here, framed only by the frilled curtains of the windows, Brunnhilde's helmet rears snowy feathers above her scarlet cape and gleaming cuirass. Nearby are many elaborate concert gowns fashioned by Worth of Paris, and the mysterious insignia of Aida's festal dress. Marguerite's pale blue puffs and swinging chatelaine stand in a corner as fresh as when they first appeared in the Kermesse crowd.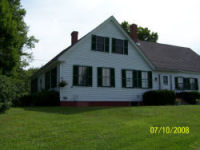 Here is a vivid testimony to the metamorphosis of art: the butterfly, carefully disposed again within the cocoon: Lillian Nordica, memorialized by careful hands and unerring taste in the surroundings where she was born and lived her first six years of life under the name of Lilly Norton.
Through a tiny passage where they have hung the ribbons from her triumphal bouquets, with her teacher, San Giovanni's soubriquet, Giglio Nordica, emblazoned in gilt on crimson satin, is reached the room where Nordica was born, the youngest of six little Maine, Methodists. A wide spool bed provided her first hospitality. Near it a couple of baby chairs remind the visitor that primadonnas scuff little feet and try to teeter like any other children.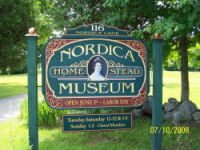 Over the bed hangs an appropiate photograph of Ernestine Schumann Heink, inscribed "to the Queen in Life and in Art, to noble good woman 'Lillian Nordica,' with all my love and grateful in remembrance of things past," on the bedside table lies a cloth, embroidered with a quaint facsimile of the Bayreuth Festival theatre.
In the next room stands an elaborate teakwood console, gift of the emperor of China, and near it a cabinet of stage jewelry, glittering as if fresh from the property department. The front parlor is dedicated to more contrasts: a heavily carved Italian chair from Diamond Jim Brady and on the wall a homely framed manuscript, a letter from Italy in 1879 by Amanda Norton, Nordica's mother, to her uncle back in Farmington, Maine. The gowns are many and wonderful. Perhaps no other singer has worn such gorgeous stage gowns. The tiaras, necklaces, bracelets, etc. are dazzling. Two rare, life sized oil paintings of Mme. Nordica have been acquired - one too large for placement in the home hangs in Nordica Hall at the university of Maine at Farmington where she performed on her last visit to her home town on August 17th, 1911. Her entire collection of opera scores, with personal notations, are highly prized, also rare bronzes, bric-a-brac and choice china and glass used in her various homes.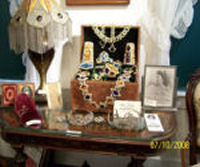 The following article is reprinted from Opera News, a magazine issued weekly during the opera season and fortnightly during the spring and autumn by the Metropolitan Opera Guild. One of the privileges to which every member of that organization is eligible. Opera News has been enthusiastically received by the Guild's radio membership which now extends through 46 states and includes many of the opera broadcast audience.
Following some private lessons, Lillian Norton entered the New England Conservatory of Music, Boston, her first instructor being John O'Neil. Here was laid a fine foundation for her splendid career. She was the first singer to be heard in the new Trocadero in Paris. In Milan, San Giovanni fitted her for the stage, and she made her debut in La Traviata at Brescia, Italy, April, 1879. Later immediate engagements included that at St. Petersburg in 1880; Paris Grand Opera House in 1882 Faust; Academy of Music, New York, 1883, as Marguerite in Faust; London, 1887. She then sang for six seasons with the de Reszke. She was the first American woman asked to sing at the Bayreuth Festival; German opera houses then were open to her, and there was great surprise at a soprano that could sing Wagnerian roles in tune. Nordics association with the Metropolitan Opera House, New York, during the latter half of the 90's, lent luster to that galaxy of artist, not since duplicated in any opera house. An honor of that time was her participation in the opening of the Boston Opera House, where she sang in LA Gioconda. Critics agree that Mme. Nordica possessed a voice of liquid purity, exceptional range and magnificent power. These, combined with a charming personality, rare dramatic gift and an obsession for patient study, enabled her to win success in a most exacting profession. Her fame penetrated to every civilized corner of the earth, and her name was synonymous with everything fine in vocal art.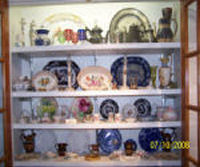 In the fall of 1913 Nordica began a concert tour which extended to the Pacific coast to Honolulu and Australia. In the Gulf of Papua, in December, she was taken seriously ill with pneumonia, and not until March was she able to continue her journey to Batavia, Java, where she passed away May 10, 1914
In view of the large amount of very valuable museum materials, it has been impossible to house them all at the Homestead. In early 1990, the association made the decision to provide a home on the premises for our caretakers, thereby releasing all the rooms at the Homestead for Nordica gowns, furniture, dishes, etc. We have also installed a burglar and the fire alarm system at the Homestead. Needless to say, these additions to the property have been very costly and we welcome donations, large or small, to help defray these expenses and to continue the maintenance of this beautiful Nordica Memorial Museum. These may be sent to the treasurer.
We welcome visitors during the summer season from June 1st to Sept. 15th, 1 p.m. to 5 p.m. Tuesday through Sunday, closed Monday, and by appointment until October 15th. Special groups may be accommodated by telephoning (207)778-2042. The admission fee is: Adults, $5.00; Children, $2.00; Under 5, free; Groups, half price. A well-informed guide will be in attendance. An annual membership fee of $5.00 entitles the holder to free admission to all social functions of the association. Life memberships for ($100) and Patron Memberships ($500) are also available. Checks should be made to: The Nordica Memorial Association; 116 Nordica Lane, Farmington, Maine 04938-5664 .
CALENDAR OF EVENTS
August 17 - Nordica Day Concert, featuring Christopher Garrepy, counter-tenor and Scott Wheatley on piano. 7:30 at Nordica Auditorium on the campus of The Univ. of Maine at Farmington. Donations accepted. FMI call 778-2042.
NORDICA MEMORIAL SCHOLARSHIP
The 2016 winner of the Nordica Memorial Scholarship is Christopher Garrepy.
A $1,000 scholarship is awarded annually to an outstanding student of singing in Maine. The winner must be able to perform for the Nordica Day concert in Farmington on August 17. The winner is decided by the Maine chapter of NATS (National Association of Teachers of Singing) in its annual spring auditions. Students must be studying with a teacher who is a member of NATS. FMI contact Jane Parker (janeparker@gwi.net)
Useful Links